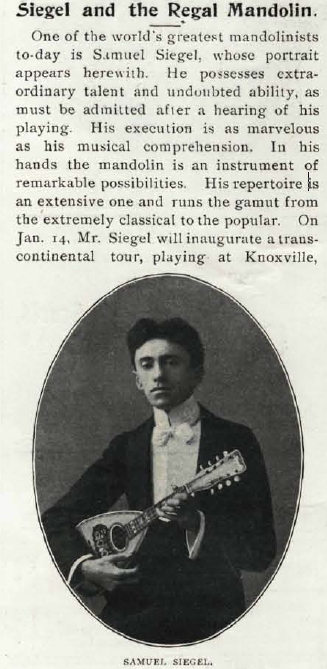 Siegel and the Regal Mandolin.
One of the world's greatest mandolinists today is Samuel Siegel whose portrait appears herewith. He possesses extraordinary talent and undoubted ability, as must be admitted aher a hearing of his playing. His execution is as marvelous as his musical comprehension. In his hands the mandolin is an instrument of remarkable possibilities. His repertoire is an extensive one and runs the gamut from the extremely classical to the popular. On Jan. 14, Mr. Siegel will inaugurate a transcontinental tour, playing at Knoxville, Tenn., after which he will appear in all the principal cities from the Atlantic to the Pacific.

As our readers may like to hear this artist we give his itinerary: Knoxville, Jan. 14; Chattanooga, 15; Louisville, 17; Cincinnati, 18; Indianapolis, 21; Winona, 23; Fargo, 25; Anaconda, 28; Butte, 29; Spokane, Feb. 1; Portland, 4; San Francisco, 8; Los Angeles, 11; San Diego, 13; Salt Lake City, 18; Denver, 21; Omaha, 25; Chicago, March 5; Streator, 111., 6; Minneapolis, 8; Milwaukee. 11; Detroit, 13; Rochester, Ind., 14; Pittsburg, 18; Baltimore, 20; Washington, 21; New York, 22.
The Regal mandolin, manufactured by the Wulschner Music Co., is used exclusively by Mr. Siegel, and he speaks in the highest terms of its splendid musical qualities. This is substantiated by hearing it played by this clever artist. Meanwhile, the letter from Mr. Siegel, which appears in the advertisement elsewhere, is worthy of perusal. It speaks for itself.

PDF: http://mtr.arcade-museum.com/MTR-1901-32-1/47/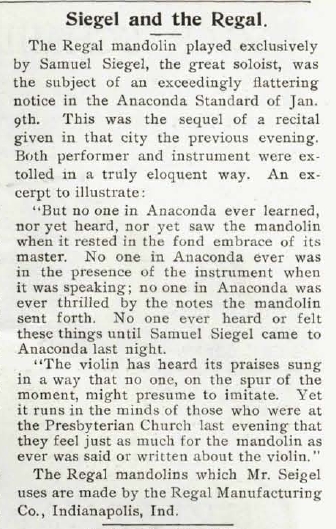 Siegel and the Regal.
The Regal mandolin played exclusively by Samuel Siegel, the great soloist, was the subject of an exceedingly flattering notice in the Anaconda Standard of Jan. 9th. This was the sequel of a recital given in that city the previous evening. Both performer and instrument were extolled in a truly eloquent way. An excerpt to illustrate:
"But no one in Anaconda ever learned, nor yet heard, nor yet saw the mandolin when it rested in the fond embrace of its master. No one in Anaconda ever was in the presence of the instrument when it was speaking; no one in Anaconda was ever thrilled by the notes the mandolin sent forth. No one ever heard or felt these things until Samuel Siegel came to Anaconda last night.
"The violin has heard its praises sung in a way that no one, on the spur of the moment, might presume to imitate. Yet it runs in the minds of those who were at the Presbyterian Church last evening that they feel just as much for the mandolin as ever was said or written about the violin."
The Regal mandolins which Mr. Seigel uses are made by the Regal Manufacturing Co., Indianapolis, Ind.