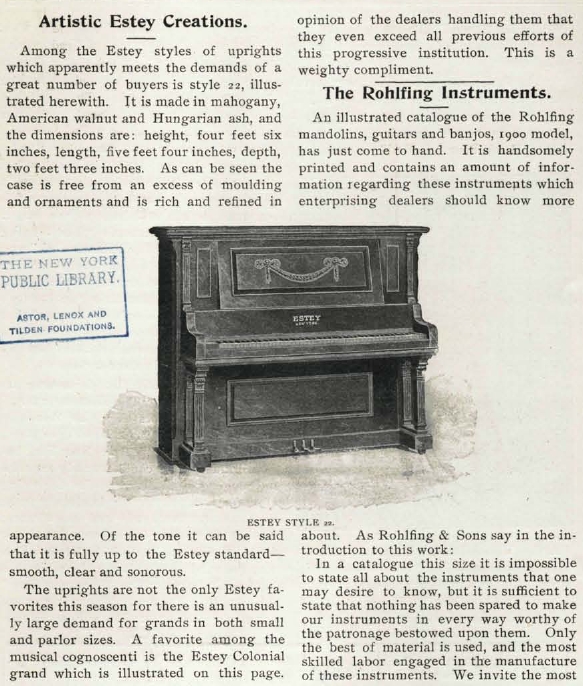 The Rohlfing Instruments.
An illustrated catalogue of the Rohlfing mandolins, guitars and banjos, 1900 model, has just come to hand. It is handsomely printed and contains an amount of information regarding these instruments which enterprising dealers should know more about. As Rohlfing & Sons say in the introduction to this work:
In a catalogue this size it is impossible to state all about the instruments that one may desire to know, but it is sufficient to state that nothing has been spared to make our instruments in every way worthy of the patronage bestowed upon them. Only the best of material is used, and the most skilled labor engaged in the manufacture of these instruments. We invite the most critical examination. Those in search of the best instruments will always find the Rohlfing is recommended with the utmost confidence, that they will sustain all claims made for them.
Of the 1900 Rohlfing mandolins, Sig. Tomaso, the well-known mandolin virtuoso, instructor and composer, director of the famous Tomaso Mandolin Orchestra, also director of mandolin department of the Chicago College of Music, says: Rohlfing Sons Music Company:
Gentlemen—It gives us great pleasure to express our admiration for your 1900 model mandolins. No European or American mandolins known to us possess such a noble, sonorous and pure tone. Even in the utmost Fortissimo it is rich and sweet. Moreover the most delicate Pianissimo can be heard in a large hall. They possess extraordinary durability under the severest usage and we frankly confess that in our estimation we have at last found a faultless mandolin.
The Tomaso Mandolin Club.
Salbatore Tomaso, Director.
The Rohlfing Sons Music Co., of Milwaukee, Wis., manufacturers of these instruments, are to be congratulated on the fine line shown in their new catalogue. We bespeak for them a generous appreciation by the trade.