The Edwin Guitars and Mandolins.
MESSRS. WM. TONK & BRO., 26 Warren street, New York, have sent us a very handsome album of stage celebrities that are using the "Edwin" guitars and mandolins. Letters to Wm. Tonk & Bro., praising these instruments and portraits are given of such wellknown people as Lillian Russell, Jessie Bartlett Davis, Camille D'Arville, Isadore Rush, Lottie Collins, Pauline Hall, Helen Bertram, Anna Boyd, Delia Fox, Villa Knox, Blanche Walsh, Marie Tempest, Katie Etnmett, and Sylvia Gerrish. Illustrations of the different styles of guitars and mandolins are also shown. The book from cover to cover is a gem of the typographers' art, and it furnishes a strong proof of the popularity and worth of the "Edwin" mandolins and guitars. All interested in these instruments should not fail to send for one of these albums.
source / Quelle: http://mtr.arcade-museum.com/MTR-1894-19-19/5/
August Pollmann - The elegant new patented Mandolin Banjo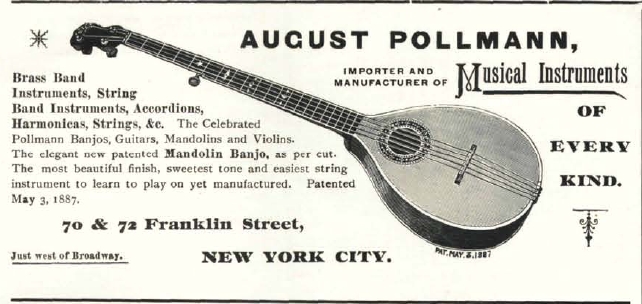 Brass Band, Instruments, String Band Instruments, Accordions, Harmonicas, Strings, &c. The Celebrated Pollmann Banjos, Guitars, Mandolins and Violins. The elegant new patented Mandolin Banjo, as per cut The most beautiful finish, sweetest tone and easiest string instrument to learn to play on yet manufactured. Patented May 3, 1887.
Source / Quelle: http://mtr.arcade-museum.com/MTR-1894-18-25/13/